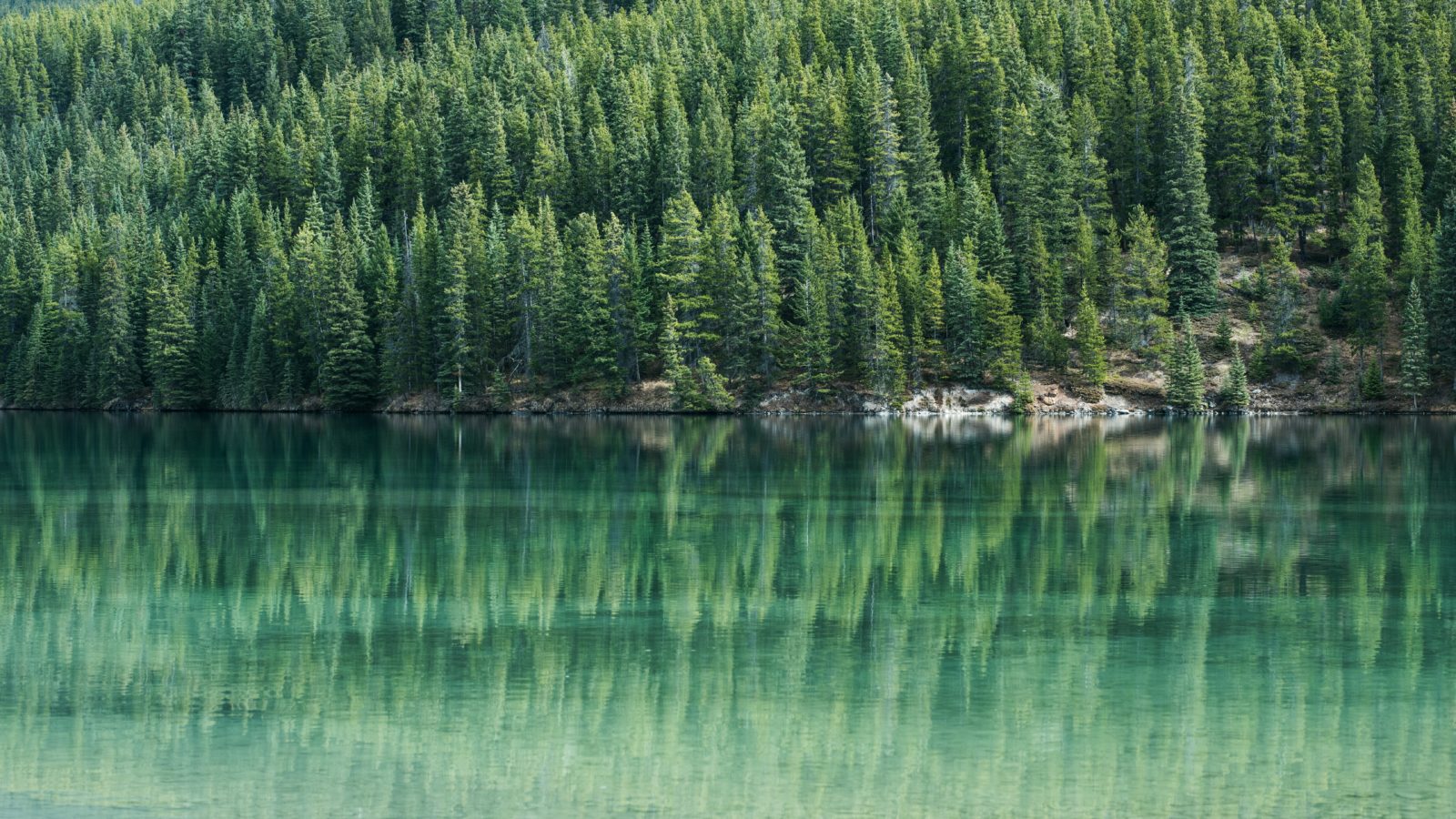 Sortbjørn i Canada
Klaus Jeppe var I Canada for at besøge en tidl. udvekslingsstudent de havde haft boende, han ville gerne tilføje nogle jagtdage mens han alligevel var derovre og køre rundt og opleve landet – det fik vi hurtigt lavet en aftale om og Klaus Jeppe var ikke bleg for at forsøge efter sort bjørn sammen med vores outfitter i British Columbia - det endte godt og lykkeligt! Bestemt en outfitter vi vil benytte fremover med både sortbjørn, moose og katte!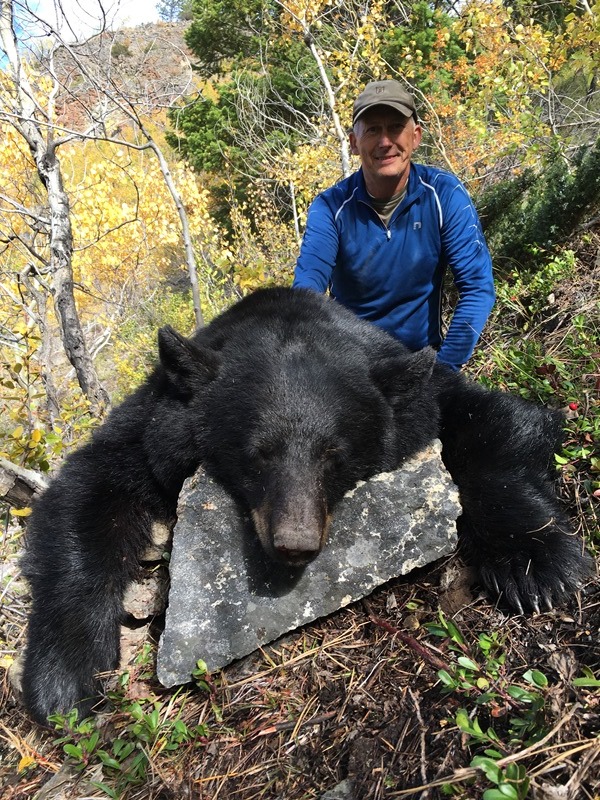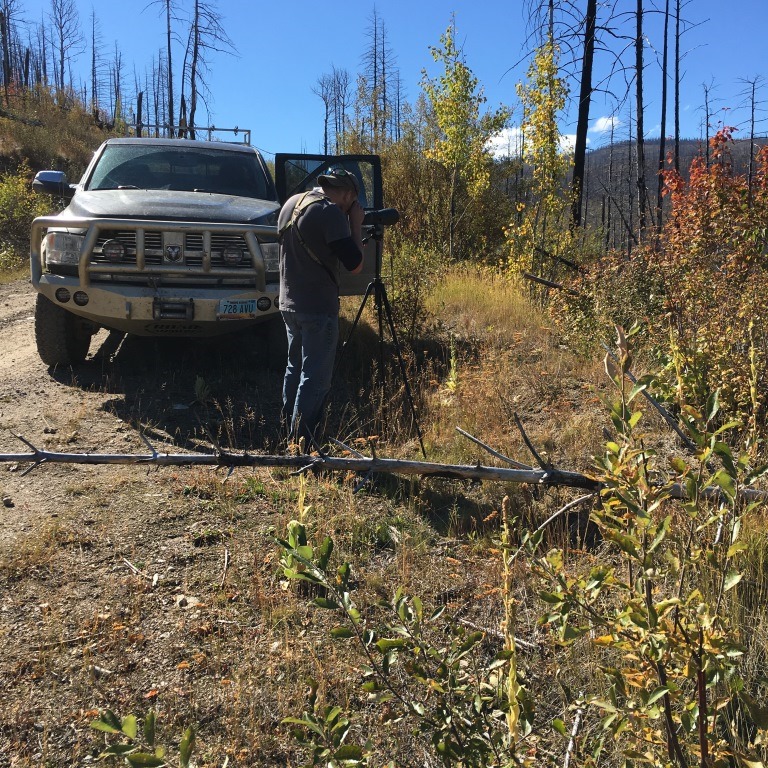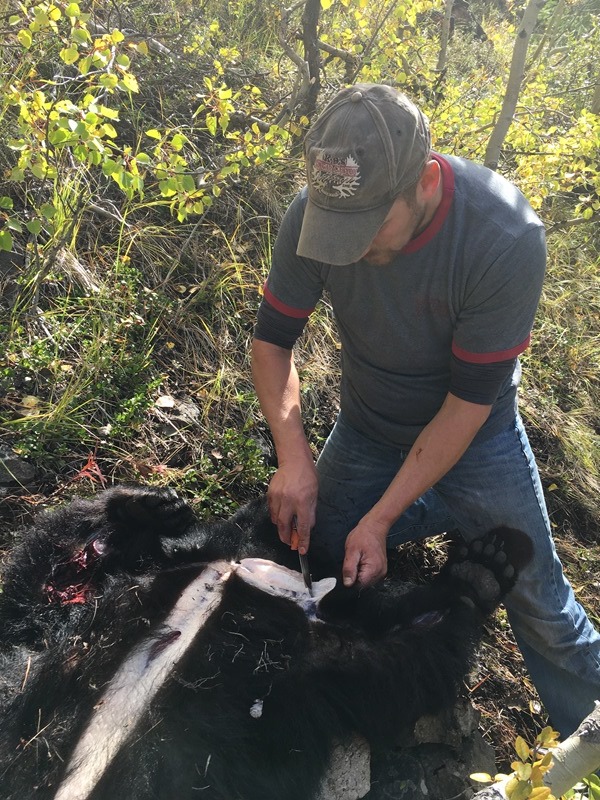 Det har været en fantastisk oplevelse.
Klaus Jeppe
Fra outfitteren i Canada:
Hello Henrik,
I am excited to share with you that, Jeppe was successful with me in taking a very nice and large black bear! Here is the story as I recall; September 20, I met Jeppe and his wife at the hotel that we had arranged. After loading his luggage, we signed his hunting license and bear tag, and headed up the mountain to do some evening scouting and also to shoot the rifle that I had provided, which was a 30-06, bolt-action. When we had gotten to our destination at an advantage point, overlooking a large, deep canyon, named Shorts Creek, I had glassed and spotted a large black bear, feeding on the kinnikinnick berries, which grow close to the forest floor and the Bears use for a source to fatten up for the upcoming winter. After deciding to go and do some research for the next day hunt and making a plan to come back to the same place, we went on to shoot the rifle. Jeppe shot at 100yds and the bullets shot very close together, so we were confident in the rifle. That night, he stayed at camp with me and we looked at maps and google earth to look at roads and structure of where we believed the bear might be staying.
September 21, we left early in the morning after a good breakfast, and lunches were packed. We arrived at our destination and nothing seemed to be moving, so we went and looked at more country and spotted some deer and a female moose. We went back to our original spot and we spotted a large black bear, at nearly 4:00pm. We drove around quickly and tried sneaking into the area, but the wind was changing directions, and we were making a lot of noise, so we were unsuccessful. Again, we left and made a long drive back to camp and did the same routine the following day.
September 22, we arrived at our spotting destination and within a short time, had spotted a bear! After careful study of the surroundings across the canyon, we made a plan to go back there again and see if we could be successful. We had good wind direction and learned of a trail that we could take, so we could make minimal noise, but when we got to the place of where the bear was spotted, it was no longer there. We looked and glassed, but in a couple minutes, the bear started walking out of the canyon, not 75yds from us! I looked at Jeppe and he looked at me. I gave him the go ahead, and he crouched down and loaded the rifle, putting a round in the chamber, the bear stopped and looked back at us. I heard Jeppe take a breath to calm himself and the report of the rifle startled the bear, but the bullet did not connect! In an instant, Jeppe reloaded, and fired and 2nd round, hitting the bear in its front leg, the bear reared and kept moving, all the mean time, I encouraged to keep shooting and called the shots to Jeppe, so he knew where he was hitting. The bear went over a knob and seemed to disappear for an eternity, but Jeppe repositioned, and when the bear reappeared, Jeppe made a killing shot. The bear flinched heavily and faltered as it was climbing it's last knob before we would've never seen it again, without tracking it. As it faltered, it fell and crashed down into the rock slide and trees below. As we were waiting, I looked at Jeppe and his hand started shaking from excitement, which is why we do the things we do. We high fived and congratulated each other, but we were still anxious to find the bear and know that it was dead. We waited for about 20 minutes, and did not hear any movement. We made our way down the steep slope of the mountain, with rifle loaded and ready for a very wounded and mean bear, but to the good shooting and damage of the bullet, we found the bear dead, on a very steep slope, which was very difficult to stand on. After building an area for us to drag the bear and take pictures, we skinned the hide, finding that, the bullet had entered behind the ribs and went diagonally through the bear, and was lodged at the top side of the neck, against the hide. When we finished, we packed our gear out. We then moved my vehicle closer down the road and went back to recover the meat and hide with my backpacks. We spotted the bear at 8:45am and shot it at 10:30am. We were completely finished and going down the mountain at 4:15pm. We met the taxidermist and went back to camp and settled up our accounts with each other and I made a plan to take his wife and him out for supper in town. They were very good people to spend time with and I look forward to anymore clients you might be able to send my way! Jeppe seemed interested in my Cougar hunt, along with moose, as I had showed him some of my pictures of the animals we had taken. I hope you enjoyed the story and I will also be sending some pictures.
Potentielle vildtarter: